White paper
By Dr. Anders Corr, Dean Baxendale, Chadwick Hagan, and Stephanie Wild
September 14, 2022 (Latest Version)
Links to paper and presentation.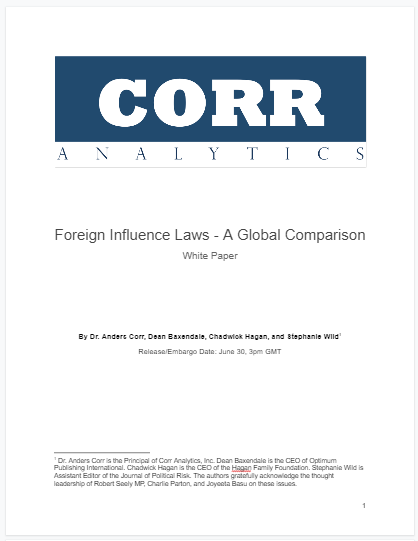 With growing concerns about illiberal Russian and Chinese influence globally, this white paper provides a summary, from the perspective of political science, of the laws, exceptions, exemptions, and enforcement regimes of the world's most powerful democracies, and their most important allies. This method for choosing the sample of countries is by measurement of gross domestic product and military strength, compared to all countries that are in the process of enacting foreign influence laws.
The growth of interest in such laws is due to Russian and Chinese national attempts to influence elections in North America and Europe, and the debilitating effect they are having on democratic defenses against non-traditional forms of diplomacy and aggression such as elite capture.
The Chinese Communist Party's (CCP's) United Front Work Department (UFWD) operations are perhaps the strongest case in point. The UFWD is how the CCP interacts officially with people and organizations outside the CCP, including within and outside China. It is an important avenue for the Chinese government's attempts to influence foreign businesses and governments.
Perhaps Beijing's most powerful avenue of influence on democratic governments is the encouragement, or not, of foreign trade through business elites in democracies. Part of such encouragement is their advocacy for others of a value-agnostic approach to trade, in which trade is allowed with regimes even if they engage in human rights abuses such as genocide, or the invasion of nearby countries, such as is ongoing in Ukraine and threatened against Taiwan. The CCP, on the other hand, is not value-agnostic in its trade, instead attempting to reward and punish businesses and countries based on their loyalty or non-interference with CCP goals.
This white paper, written from a political science perspective (the authors are not lawyers and the paper is not legal advice), compares the laws across fourteen countries in order to examine their relative strengths and weaknesses.
Host (5 minutes):
Dr. Anders Corr (Corr Analytics Inc – U.S.)
Presenters (in order – 5 minutes each):
Stephanie Wild (Journal of Political Risk – South Africa)
Dean Baxendale (Optimum Publishing International – Canada)
Chad Hagan (Hagan Family Foundation – U.S.)
Discussant (5 minutes):
Joyeeta Basu (Sunday Guardian – India)
Discussion/questions from audience: 35 minutes
This presentation was recorded and published.
This paper was published on the web.